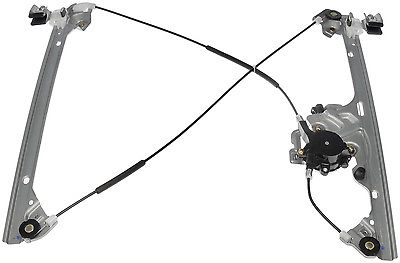 After removing the product from the packaging, applying some lithium grease on the rails can't hurt.
Remove the door panel, tape the window in the up position, use painters tape to hold the glass in the up position.
Remove the two bolts far left and right of the rails that holds the glass. If they are stuck, pull the holders down some.
Unplug the power to the motor.
Remove the six bolts that hold the rails in and lift up slightly and turn horizontal and remove.
This replacement has two bolts at the bottom attached to the rails and the they supply the nuts for them.
On the rail with no motor, the second bolt from the top, the mounting section is missing, but it still functions without.
You can reuse the OEM bolts or use the ones that come with the product and they already have lock thread on them.
Install, snug the bolts down, plug in the power connector, using your switch again, push up the glass holders up to meet the glass, tighten those two down.
Tighten the remaining bolts. When the bolt meets metal, give it another turn and a half, they can loosen over time.
Put the door panel back on and you are done.
Tools needed:
7mm deep socket (door panel)
10mm deep socket (window regulator)
Ratchet with extension
Flat head screwdriver (door panel)
First time install – 20 minutes maximum

Search for part number 741-644 at www.concord-parts.com – it's a best price!